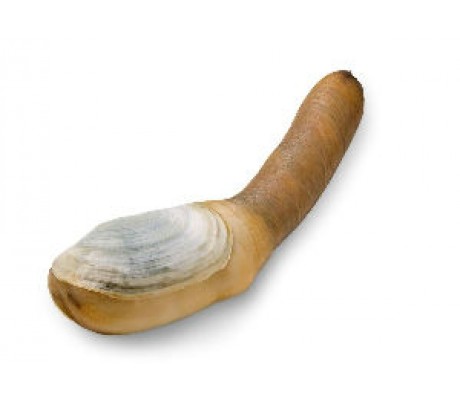 Geoduck
Our whole purged geoduck is shipped live to protect its flavor and texture. The neck or siphon has a deliciously sweet taste and the crisp texture of a cucumber is excellent served sashimi style. The body has a mild taste and is usually served pan fried, steamed or stewed. Geoduck is the world's largest burrowing clam and is prized at sushi bars because it goes well with other flavors.
Geoduck is ideal for sushi, sashimi, or ceviche. The body can also be fried or steamed.
You can specify desired delivery date during checkout. However, please keep in mind - Mother Nature runs things. She can cause a weather system, which can delay your package AT ANY TIME. So, please allow an extra day or two when selecting your delivery date.
FedEx SHIPPING RATES:
$10 Flat Rate Shipping for Washington, Oregon and Northern Idaho.
$40 Flat Rate Shipping for anywhere else in the US.
For more deatiled information, please read our order guidelines under Terms and Shipping.
Product Reviews
This product has not been reviewed yet. Be the first!